The truth is it is not always easy to spot fake ID's. Some of them are genuine ID's obtained by deception, however most of them will be an obscure form of ID that are visually similar to the real thing. What may seem as genuine to an underage drinker, may be blindingly obvious to a seasoned landlord/landlady as a fake.
If the ID is suspected as false, DO NOT HAND THE ID BACK to the person presenting it. Even if it is a passport. They can contact the Police to retrieve it, if it is genuine. Just keep it safe.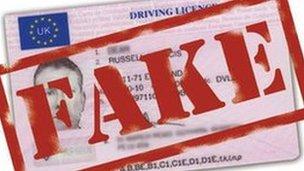 The rule here really is that if you suspect the person is underage, rely on your instinct. You may be heavily fined, attract a following of young people and therefore attract a reputation which will make you prone for spot checks; or for persistent selling to underage customers, closed.
If you were hoping to find a way of obtaining false ID's, I am sorry to disappoint!
Admin




Posts

: 282


Join date

: 2013-02-15



I was used to serve an underage girl with a guy in his mid thirties. He made her look older if you know what I mean but I was shocked when we got done for it. i felt really bad for my boss and felt guilty but at the end of the day they make it hard for you if you are constanty working all nite and then get caught out by someone dressed and looking older than 18. I mean, the person they used must be the oldest looking 17 year old ive ever seen. how about unfair? Soz Rob x x x



Posts

: 1


Join date

: 2013-02-23




---
Permissions in this forum:
You
cannot
reply to topics in this forum